Selecting our Panelists-A Message from APS CEO, Allan Katz
June 15, 2023
After every APS program, I'm fortunate to receive a variety of feedback about the panelists, the moderator, the topic and more. I appreciate it. This type of engagement from our community is important to me and my colleagues.
The choice of our panelists is often a focus of the feedback I receive and as I've considered everything I've heard recently, I'm motivated to share some thoughts with you.
If you're familiar with APS then you know we are purposeful about choosing topics that are divisive and the source of many divergent perspectives—this approach is part of what differentiates APS.  It should then be no surprise to you to hear that not everyone we seek out to participate is comfortable showing up and voicing their perspectives in front of a live audience and streaming cameras. Finding knowledgeable panelists who agree to sit on our panels and are available to do so is one of the most time consuming and challenging (sometimes arduous) tasks we have at APS. So above all, I want to express my sincere appreciation for the panelists who do show up. They make these challenging conversations possible, and I believe we are all better for their participation.
Secondly, divisive topics naturally generate emotional responses. It's entirely possible that some audience members find themselves uncomfortable with certain commentary, panelists, or other audience members.  And this is okay. It is not our role to temper strong emotions or limit perspectives—it is our job to expose diverse and divergent perspectives. Even if an audience member vehemently disagrees with a panelist's commentary, I believe they are better for having been exposed to it. It is part of what will expand their understanding of the complexity of these issues. I can also assure you, whatever viewpoint they're there to represent every panelist has supporters in the room.  If our programs only serve to reinforce beliefs already held or do nothing to expand understanding of a different perspective (even if one hates it), then we have fallen short in our mission.
Finally, just because we are purposeful about creating space for divergent perspectives, doesn't mean we don't draw lines on what is acceptable. For the most part, we believe exposure to diverse and divergent perspectives is a constructive learning tool—a way to understand the nuance and complexities of the issues we face as a nation. But we would never intentionally seek out a panelist who we believe brings a real threat of inciting violence, spouting hatred, or exclusively relying on hyperbole or categorical falsehoods. And to safeguard our conversations from these things, we've built mechanisms to manage our programs in our Civility Toolkit—fact checks, civility bells, experienced moderators and more.
As a community, your presence at our programs and the reactions to the discussions remain deeply valuable to me and the staff at APS. As you continue to engage in our programming, I ask you to do so with the perspective I've offered here. Listen with intent. Reflect on your first impressions. Learn something from everyone who shows up to the conversation. Sit in your discomfort.  And use all of that to expand your own understanding and beliefs in the topics at hand.
After all, that is what APS is all about. 
Ambassador Allan Katz (ret.)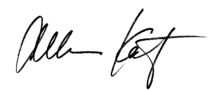 A note on cancel culture, from Amb. Allan Katz (ret.), CEO-American Public Square
On Tuesday, March 21, APS is partnering with KCPBS and The National WWI Museum and Memorial to present a program that will address our society's increasing unwillingness to tolerate divergent viewpoints. The "Canceled, Censored, Banned" program will feature a panel of experts entrenched in the issues of book banning, free speech, freedom of information, and more.  APS initiated this program because we can see the divide between two sides who seem to sincerely believe they are making a stronger, more civil society by imposing their beliefs about what should be seen, said, heard or read.
The March program panel includes:
Jay Ashcroft, a Secretary of State who is advocating for policies he believes will protect minors from non-age-appropriate materials.
Sally Bradshaw, a longtime political advisor turned bookstore owner focused on providing wide ranging content and programming that improves civil discourse in Florida.
Michael Ryan, an author and career journalist who has lived the experience of being a lone conservative voice in newsrooms.
Emerson Sykes, an ACLU attorney focused on free speech protections through the ACLU's Speech, Privacy and Technology project.
This panel is undoubtedly qualified to examine this growing phenomenon in America.
As I consider the cancel culture topic, it's easy to feel that it's unique to contemporary society, but this is not a new issue. I am reading Adam Hochschild's recent book "American Midnight" which chronicles what happened in America when we entered World War I. While I was familiar with the horror of slavery, Jim Crow, Japanese American internment, and the McCarthy era, I was unaware that Americans were jailed, beaten, and even killed for expressing dissent after the U.S. entered the first world war. Books with German titles were burned, and public gatherings were frequently and violently disrupted with no intervention by legal authorities.  Perhaps the most surprising is that this happened with the approval of President Woodrow Wilson, largely viewed as a progressive era icon.
We have a history of intolerance, particularly centered on the belief that the books or speeches of those with whom we disagree are dangerous. We have a history of using the coercive power of the state to "strong-arm" compliance with given perspectives. And today, I believe we are seeing similar risks with the growing propensity to want to silence, or cancel, perspectives that conflict with our own.
APS' mission centers on providing platforms for those who feel strongly about one perspective to engage with those who have a different perspective–not as enemies in violent or contentious political conflict, but as fellow community members who need to be challenged by different perspectives so that the community can determine a path forward together. Our work at APS is not to advocate, but we welcome advocates in our midst. We fervently believe all of us will be better for understanding the basis of opposing beliefs, even if we are not moved from our original position.
If this is the way we more consistently address public issues, we believe our community and our nation will be a better, more dynamic, and successful society. We have no doubt you have your own opinions on cancel culture, book banning, political and social censorship—so join us on March 21. Come challenge your own perspective and engage in a meaningful conversation alongside those with whom you may disagree. It is sure to be a lively conversation about an important issue in American culture, past and present.
See you there.
Ambassador Allan Katz (ret.)
A note on our student-produced program tackling Abortion, from Amb. Allan Katz (ret.), CEO-American Public Square
On Tuesday, April 25 American Public Square will host our first program on the topic of abortion and how it is dividing our country.
This program has been produced by the high school students participating in our Civics Education Initiative, a student-led program. Candidly, this is a topic we adults have studiously avoided in the nine years we have been doing programs at American Public Square. However, we feel strongly about giving our students a voice in these decisions and it was they who decided this was the topic that needed to be discussed. And so, we are going for it.
I had some time to sit and chat with a group of students during their final workday last week and several of them cited that their interest in this topic was heavily driven by the Dobbs decision which overruled the longstanding Roe v. Wade precedent. All of us agreed this decision highlighted, and in some cases reignited longstanding divisions. This should be taken seriously by every American, no matter your political affiliation—even if we hate the divisiveness of this topic, we can't ignore it.
We hope the students' program will be a model to encourage more of us to engage in civil dialogue about abortion and other polarizing topics so that we may work together to build a less contemptuous, safer, and more productive society. There is no question that our panelists hold wildly different views on this topic, as does our broader APS community. This program is a chance for us to come together, look beyond our closely held positions for the evening, listen to facts, hear different perspectives, seek to understand the "whys" behind those perspectives and begin to navigate a path forward—for the students in the room and all those to come.
Will you join me in supporting these local students by attending their program Tuesday evening? The in-person event takes place at the Plaza Branch of the Kansas City Public Library, beginning at 5:30pm; there is a virtual viewing option as well. You can register here.
Ambassador Allan Katz (ret.)