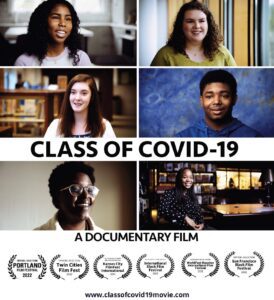 Join American Public Square at Jewell and the Johnson County Library for a screening of the documentary film, Class of COVID-19, which features a select group of students and teachers who show resilience during the first 12 months of the COVID-19 pandemic.
From initial lockdown to the first vaccines, Class of COVID-19 unveils untold and thought-provoking stories of courage and hope in the face of the coronavirus. The stories move far beyond school buildings to show the fears, challenges, and triumphs of exemplary educators and students. Faced with struggles around mental health, inequities in school resources, and racial injustice, the characters evolve to become true leaders in their communities and prove that sometimes the most important lessons are learned outside the classroom.
The film runs 75 minutes and will be followed by a 45-minute talkback session moderated by APS Civics Education Initiative Program Manager, Tricia Maxfield, in conversation with Class of COVID-19 Director, Jon Brick, film Producer, Donna M. Davis, PhD, and K-State student, Kolbi Washington, who was featured in the documentary.
Doors open at 5:15pm.  Popcorn and soda will be served.